Mission
North Dakota Leadership Seminar is a non-profit organization dedicated to teaching leadership and community service skills to high school sophomores.
Our Story
Since 1981, the North Dakota Leadership Seminar (NDLS) has provided more than 3,500 high school sophomores with the opportunity of a lifetime. What started out as a small project has turned into an exciting annual leadership seminar. Each spring, more than 100 of the state's top student leaders gather for a three-day, all-expense paid program.
Board of Directors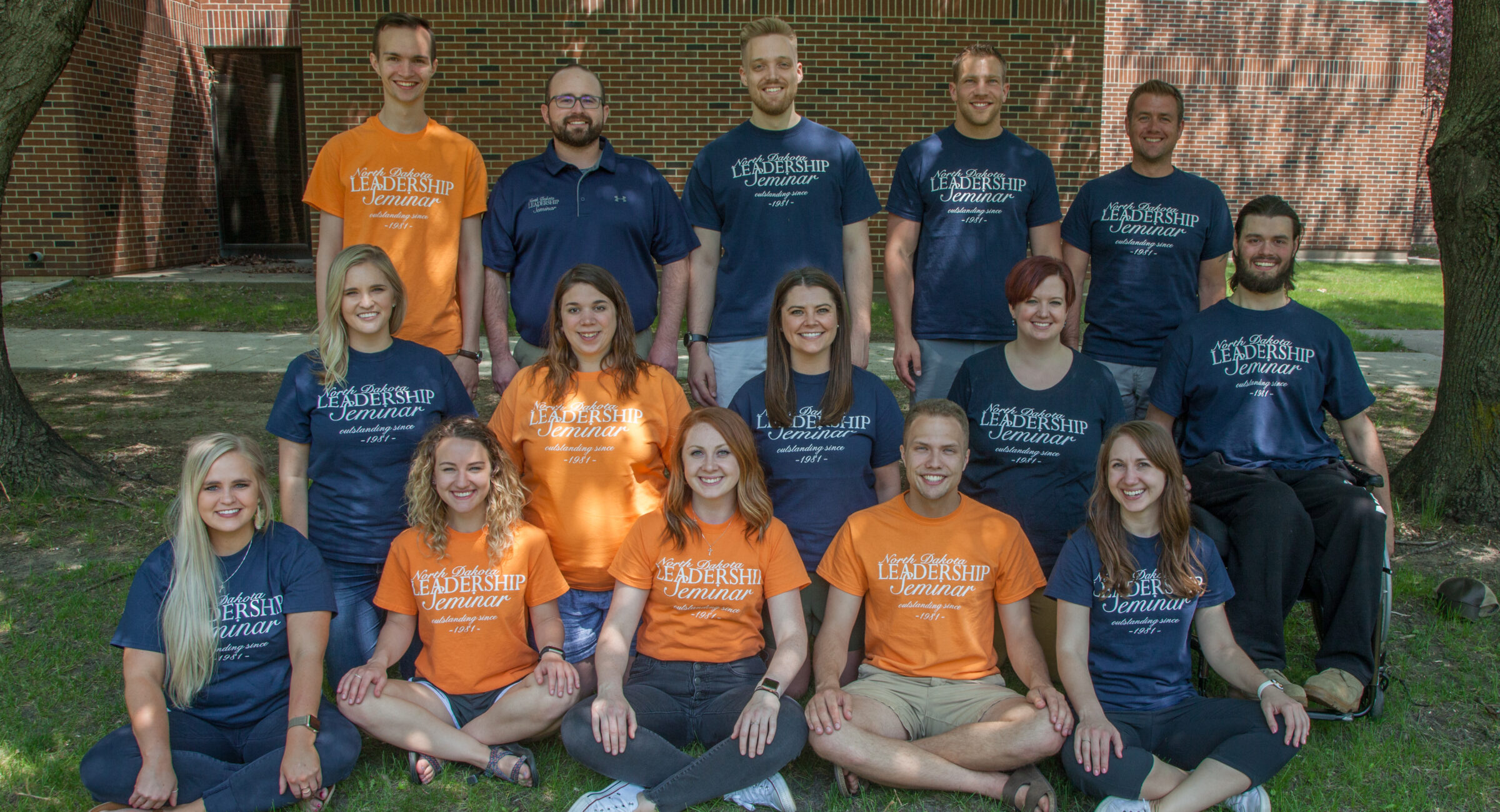 L to R, Back to Front: Joe Kalka, Bryce Scharmer, Josh Haugen, Mitch Johnson, Dustin Whitney, Jenna Meldahl, Amanda Braxton, Sara Litton, Steph Foughty, Sean Prellwitz, Hailey Scharmer, Torrin Poss, Kelsey Altendorf, Ethan Johnson, Dana Altendorf
The Board is a group of experienced volunteers responsible for the overall governing of the North Dakota Leadership Seminar. They assume complete responsibility for the financial success of the organization through writing grants and leading an annual fund drive. The Board also meets at least five times a year to track their progress as they recruit students, assemble the program, line up volunteers, and make all necessary arrangements to ensure the organizations success in planning an OUTSTANDING seminar each year.
2022-2023 Board of Directors
Jenna Meldahl, Co-Chair
Mitch Johnson, Co-Chair
Sara Litton, Director of Adult Staff
Dustin Whitney, Director of Alumni
Thomas Muscha, Director of Community Outreach
Bryce Scharmer, Director of Facilities
Ashley Haugen, Director of Finances
Dorothy Lick, Co-Director of Fundraising
Jed Geer, Co-Director of Fundraising
Jamie Ressler, Director of Grants
Steph Foughty, Director of Operations
Matthew Hallaway, Director of Program
Hailey Scharmer, Director of Recruitment
Jenna Meldahl, Co-Director of Registration
Kelsey Altendorf, Co-Director of Registration
Brock Ulland, Secretary
Josh Haugen, Director of Technology
Haley Beeter, Director of Volunteerism and PR
Callie Brorby, Director of Social Media
Ian Keller, Member at Large
Hunter Gallagher, Alumni Representative
Megan Goldade, Alumni Representative
Chairperson History
Jenna Meldahl, Present
Mitch Johnson, Present
Dana Altendorf, 2019-2023
Bryce Scharmer, 2016-2019
Rusty Bender, 2015-2017
Jed Geer, 2013-2015
Sara Litton, 2011-2013
Jamie Ressler, 2009-2011
KariAnn Buntrock, 2007-2009
Josh Ressler, 2005-2007
Dorothy Lick, 2003-2004
Julie Black, 2001-2002
Victoria Knudson, 2000
Marti Zinsli, 1998-1999
Wanda Schirado, 1997
Kathy Aemisegger, 1994-1996
Jon Carroll, 1991-1992, 1994
Jim Ridley, 1993
Rick Schirado, 1989-1990
David Sorum, 1988
Marty Thielges, 1985-1987
Remy Stecher, 1984
Tracy Smith, 1982-1983
Rod Breen, 1981
Terry Burke, 1981