VOTE FOR PMA
Read the bios below first to find out more about the candidates!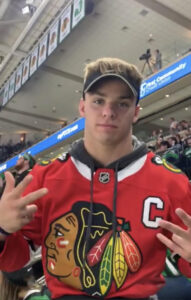 Hey everyone!  I am Blake Loomis I am from Galchutt, ND and I attended Seminar in 2017 as a Tuba!   I'm very humbled to be nominated for Mr. PMA 2020.  I think I would make a great PMA because I have been at seminar every year since my student leader year.  I also have been on the alumni board every year I have been involved with NDLS.  I am always upbeat and energetic at seminar and I am able to work well with everybody.  I hope you consider me for your vote for Mr. PMA!:) See you all very soon!!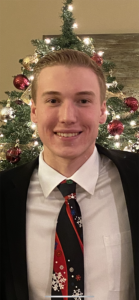 Hello NDLS! My name is Jacob Tupa and I'm from Larimore. I am currently a junior at the University of North Dakota majoring in Medical Laboratory Science and Pre-Medicine. I attended Seminar in 2015 as a CAT! MEOW! I think I would make a great Mr. PMA because I am a very outgoing individual with a strong personality. I feel I am able to relate well with others and with my experience as a JC, I feel I am confident in being able to engage in active conversation with student leaders to help them develop into the best version of themselves. Being chosen as your 2020 Mr. PMA would mean a lot to me, because not everyone gets the honor of being able to take on such a tremendous responsibility. This organization has given me so many great friendships, leadership opportunities and much more. The chance to give back as Mr. PMA would be such a blessing. In closing, I would like to thank whoever nominated me for a chance at this position and all of the NDLS alumni that make this organization OUTSTANDING! eNDLeSs hugs!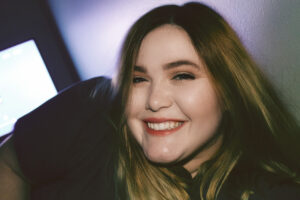 Hey everyone! My name is Haley Beeter and I'm originally from good ole' Bowbells, North Dakota. I first came to NDLS in 2016 as a Mummy. I've been back every year since! I'm also the current Director of Public Relations on the Alumni Board. I am currently attending the University of North Dakota majoring in Secondary Education specializing in History. In the little free time I have, I enjoy reading, taking pictures, and spending time with some pals. I love this organization with my whole heart and am honored to be nominated for Miss PMA 2020. I hope everyone is having a great start to 2020!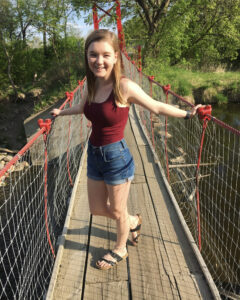 Hey guys! I'm Megan Goldade and I am super stoked to be nominated for Miss PMA. I attended Seminar in 2017 as a guitar. Ever since then, I've been nothing short of infatuated with NDLS. I am from Glenburn and I am currently attending the University of North Dakota as a Communication Sciences and Disorders major (say that ten times fast.) My favorite cheers are Flee Fly and Heidi Ho! I'm super energetic and love bringing a smile to peoples' faces with dad jokes and endless hugs. It would be an absolute honor and privilege to serve NDLS as Miss PMA and to keep the excitement for Seminar at full force all weekend long! This organization has my whole heart and I'd love nothing more than to be a part of the OUTSTANDING experience for this year's student leaders. See you in May!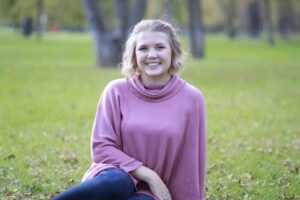 Hello! For those of you that haven't met me, I am Morgan Krizan. You may know me as the former 2018-2019 State FFA Vice President. Currently, I am a sophomore in college majoring in Healthcare Administration. I work part-time as a bank teller, but my full-time job is being a Dog Mom to the sweetest puppy named Harley, after Harley-Davidson Motorcycles. In my past-time I love to travel, ride motorcycle, and take naps. I came to NDLS as a Student Leader in 2016 as a Vampire (bleh, bleh, bleh). Since then, I have been a PA, JC, and the 2017-2019 Director of Service and the 2019-2020 Director of Fundraising. When I came to NDLS as a sophomore, I had no clue that it would change my life. Best of all, it has surrounded me with incredible people like you. The 2020 Seminar will be extra special for me because my little brother will be a Student Leader. NDLS, it would be an honor to be Miss PMA for an organization I hold so close to my heart on a year that will already be so special. I can't wait to see you all at Seminar!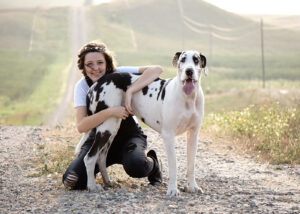 Hello! I'm Abigail Petersen and I'm a freshman at UND with a major in Criminal Justice. I hope to get my law degree in the future. I graduated from Ashley Public School and I love astrology. I believe I would make a great PMA because I'm enthusiastic and full of positivity. I've also been really involved in NDLS since I was a Guitar back in 2017 by going back as a JC as well as being on the officer board for a year.